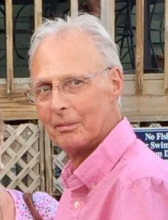 Obituary for Christopher C.H. Bradley
Bradley, Christopher C.H. 'Chris' age 72 of Loudon, passed away Saturday, June 17th at Blount Memorial Hospital after a brief illness.

Born in Thistleton Village in Rutland, England on December 18, 1944, he was educated at Market Overton C of E Primary school, Vale of Catmose College Secondary school and then Grantham Technical College. Chris then completed a 5 year mechanic's apprenticeship. He worked for CTM in Cottesmore, England, then Victor Wood of Oakham, England. In 1983 he and his wife, Mandy and daughter, Julia immigrated to Englewood. Chris worked for Harper Auto Square overseeing Porsche, Audi and Jaguar as technical manager until his retirement in 2010. He was a dedicated employee who was proud of working 50 years to the minute. Another significant milestone was that he and his wife Mandy were able to reach their 50th wedding anniversary a few hours before he died.

Chris was preceded in death by his parents, Cuthbert and Flora (Hind) Bradley. Survivors include his loving wife, Mandy (Simpson) Bradley; daughter and son-in-law, Julia Bradley and Eric Sweet, Richmond, VA; granddaughters, Hannah and Frances Rayfield; sister and brother-in-law, Judy and Ronnie Patterson, Lenoir City; nephews, Michael Patterson, Scott Hill and David Patterson, Lenoir City.

Contributions in memory of Chris may be made to the American Cancer Society, 871 N Weisgarber Rd, Knoxville, TN 37909. The family will receive friends 5-7 PM Friday, June 23, 2017 in the McGill Click Chapel. McGill Click Funerals & Cremations, 1366 Highway 72 N, Loudon.

Visitation:
The Bradley family will receive friends 5-7 PM Friday, June 23rd in the McGill Click Chapel.